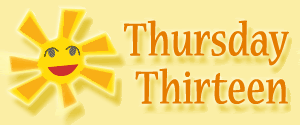 Thirteen Thoughts About the Past Week
1. Water aerobics classes finally moved outside. Hallelujah! The sun felt great.
2. BigBob came home from the hospital yesterday.

3. The doctor informed him that he had five different types of infections raging when they operated.
4. BigBob is lucky that he responded to the antibiotics.
5. The surgeon told him that the appendicitis set in a few days earlier than BigBob seemed to think it did.
6. Beats me how he managed to ignore the symptoms that long. The surgeon said the first night that "he must be a tough guy." Ya think?
7. BigBob woke me up at 7:00 a.m. with the sound of water hitting the plants outside my bedroom window. Yes, the big dufus actually went out in the backyard and started watering. Did I tell him to get his butt back into the house and rest? What do you think?
8. I had to do the grocery shopping on Monday night. I couldn't tell you how many years had elapsed since I last set foot in a grocery store. I don't shop. That's BigBob's job. But my cupboards looked like Old Mother Hubbard's so I made #1Son accompany me and we got it done.
9. I hired a gardener today who will start working on Monday. The neighbors will just have to be patient. Not that any of them have said anything, but I'm sure the Gladys Kravitzes of the 'hood are clucking their tongues and speculating. And yes, we do have a couple Gladyses but I'm not naming names.
10. Schlepping off to the hospital every day to visit pooped me out so I'm glad that's over.
11. I actually went to bed at 9:30 p.m. last night. And I fell asleep a little after 10:00 p.m. That's about 4 hours earlier than normal.
12. Did I mention that I'm still tired in spite of having gone to bed so early last night?
13. I plan to spend this Mother's Day sleeping.